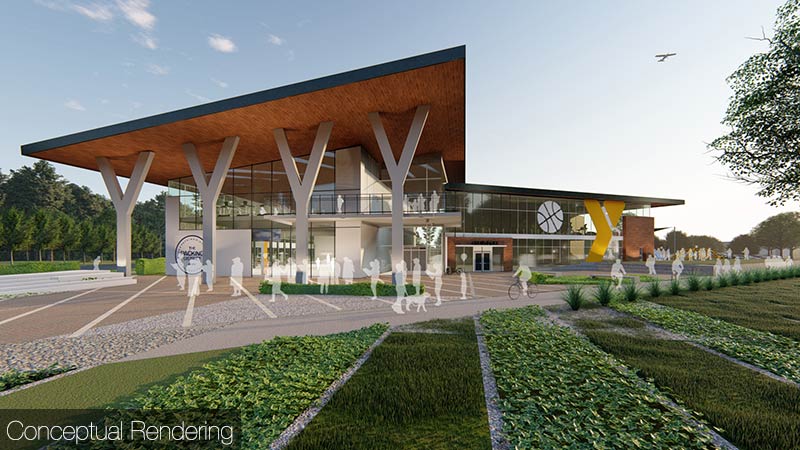 Dr. Phillips Gifts $8.9M for New YMCA in The Packing District
December 4, 2018
YMCA of Central Florida Announces Development Team for Newest Family Center Location in The Packing District
March 18, 2019
Embrey Partners Selected to Build in The Packing District
Epicenter of The Packing District at Princeton and OBT begins to take shape
ORLANDO, Fla. – [Jan. 2, 2019] – Plans for the 202-acre The Packing District near College Park continue to take shape, as Dr. Phillips Charities announces Embrey Partners, an award-winning San Antonio-based multi-family developer, has been selected to build 310 units of multi-family housing at the northeast corner of Princeton Street and Orange Blossom Trail in Orlando. This comes just a few weeks after it was announced a new YMCA Family Center would be built within the district.
"This is an exciting time for the project, as we continue to identify key partners who will really help our vision of community, health and wellness come alive," said Ken Robinson, president/CEO of Dr. Phillips Charities, which is serving as the community builder on the project.
"Embrey Partners is very excited to be the multifamily developer for the first phase of The Packing District," said Brad Knolle, Executive Vice President, Development, Embrey. "The overall vision that Dr. Phillips has set forward for this redevelopment aligns with Embrey's vision to develop exceptional residential properties in desirable locations."
The housing developed by Embrey will sit on what is to become an iconic corner for The Packing District, which will feature a grocery store, retail and a replica of the old Dr. Phillips Fruit Stand – a once iconic building for the area decades ago. Embrey plans to break ground in June 2019 and have units available in December 2020.
Plans for The Packing District, a $480-million transformational project, have continued to unfold within the last year. In late 2017, Dr. Phillips Charities announced its gift of more than 100 acres of land adjacent to the District to the City of Orlando to make way for a regional park that would serve as a hub for wellness programs and provide a site for amenities, including the city's tennis center, bike trails, running trails and more.
Then, in late November 2018, the Dr. Phillips Charities board voted to fund $8.9 million to the YMCA of Central Florida to build and equip a new YMCA Family Center for the College Park area within The Packing District. Located at the planned roundabout at Princeton Street and Texas Avenue on the north end of Orlando's newest regional park, the YMCA Family Center will plan to have 24,500 square feet of space spanning two stories and play host to key programs for the community while also integrating with The Packing District's regional park to allow both indoor and outdoor healthy living activities.
Preparations are underway to ready the site for construction, which will span the next 10-15 years in four phases. The Family Center is projected to break ground in late 2019 and be operational by early 2021.
About The Packing District
The Packing District is a 202-acre transformational project centered at the intersection of Princeton Street and Orange Blossom Trail in Orlando, preserving and recapturing a defining part of our community's history while providing a vibrant base of living and commerce. Historic buildings will be repurposed, integrated with new uses, and connected to dedicated public spaces by a new and bold plan for urban trails and a new 100-acre public park (gifted to the City of Orlando) dedicated to health and wellness, education, arts and community, and sustainability. Preparations began to ready the site for construction in 2018. The project will continue to mature over the next 10-15 years as laid out in the four-phase master plan.
To learn more, visit https://packingdistrictorlando.com/ and follow The Packing District on Facebook and Instagram.
About Dr. Phillips Charities
Dr. Phillips Charities has made over $190 million in grants, pledges and program-related investments to Central Florida charities responding to the needs of the community and directly touching the lives of thousands of children and families. The Dr. Phillips name has been a major economic and philanthropic presence in the Central Florida community since the turn of the 20th century. Dr. Phillips Charities honors the legacy of the Phillips family and its support of organizations that live up to the motto "to help others help themselves."
About Embrey Partners
San Antonio-based Embrey Partners, Ltd., is a real estate investment company that owns, develops, builds and manages market-rate multifamily and commercial assets in targeted markets across the United States. Since 1974, Embrey has developed more than 39,000 apartments and over 6 million square feet of commercial property. Embrey is one of the leading developers in the multifamily sector, with approximately 6,000 units under construction or in development. www.embreydc.com
# # #